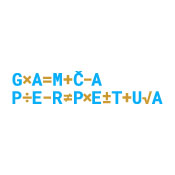 About the initiative
Gamča perpetua is an initiative of graduates and friends of Gamča, how to systematically help their school. We became institutionalized in 2014 and our mission is long-term care for the spirit of Gamča.
We carry out our activities mainly through material (finances, materials) and non-material (knowledge) help to the school in cooperation with the faculty, students and parents.
We prefer to work slowly but systematically in our spirit, rather than hurray in a way with great initial enthusiasm, which subsides after a while. Most of the communication takes place in person or by email, we will gradually add to this website.
The organizational medium-term goal is to create a "council of elders", i.e. 10-20 successful graduates of Gamča across the years, who will watch over the spirit of Gamča for the next generations and above all help the school to be even better in the style of "alumni council/supervisory board" during their term of office.
Management
Note: Most of the income and expenses for the years 2014-16 are connected with the Gamča Olympics. The share of expenses for running the school (scholarships, equipment, consumables) is gradually increasing.
Lift from income:
2% of taxes 2014: € 347.74
Collection 2015/16: € 3,956.08
2% of taxes 2015: € 5,241.44
Collection 2016/17: € 5,980.00
2% of taxes 2016: € 13,231.56
Collection 2017/18: € 7,502.00
2% of taxes 2017: € 13,758.49
Collection 2018/19: € 30,754.10
2% of taxes 2018: € 15,037.16
Collection 2019/20: € 27,962.00
2% of taxes 2019: € 5,960.88
Collection 2020/21: € 4102.00
2% of taxes 2020: € 21,626.54
Collection 2021/22: € 706.51
2% of taxes 2021: € 5,489.67
Expenses:
We are preparing a new clear list of expenses for you.
Collection
You can learn more about the public collection in the Collection section.
Contact
The web address of the initiative is http://perpetua.gamca.sk, which will take you to this page.
If you want to get in touch with us or get involved directly, write to us at perpetua@gamca.sk or contact us directly if we already know each other.
The charter members of the association are Maroš Noge (Octava 2014) and Rastislav Mikuláš (Octava 2002). Other Gamčács help us in our activities, each according to their abilities and especially their profession. More help welcome!
Gamča perpetua, o.z.
Grösslingová 18
811 09 Bratislava
The civil association was registered on November 7, 1994 at the Ministry of the Interior of the Slovak Republic under the number VVS/1-900/90-10082. The assigned Organization Identification Number (ID number) is 31744923. The assigned Tax Identification Number (TIN) is 2020856189.