ISIC
Gamča provides a service for the establishment of international student cards ISIC⁄Euro<26, which we use as school cards and which can also be used classically – discounts, tram tickets and other discounts on travel.
The student does not apply for the card separately but through Gamča. Details can be found on the page ISIC/Euro<26.
Accommodation
Gamča does not (yet) have its own dormitory for its non-Bratislava students.
There are several gymnasium boarding schools in Bratislava that also provide accommodation for non-relegation schools like ours. This school year, Gamčács from outside Bratislava live mainly in the dormitory on Vranovská Street.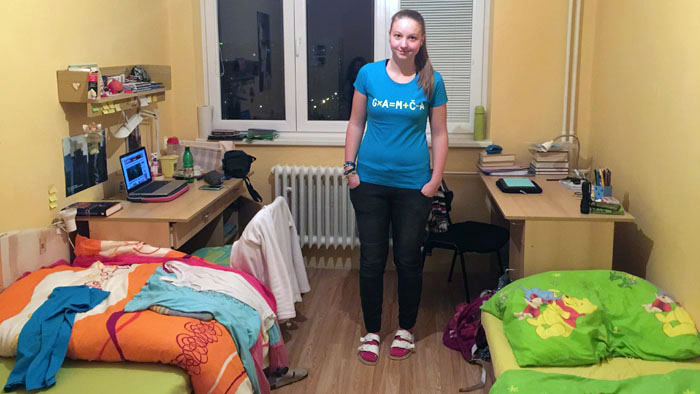 When submitting an application for Gamča, also submit applications for dormitories (make sure to apply for several to be sure).
County dormitories: Vranovská, Trnavská & Saratovká, Ivánska cesta, Svätoplukova, Račianska, Na pántoch, Hlinícka
The dormitories are standard affordable gymnasium dormitories with tutors, 24-hour concierge and catering. Accommodation (e.g. Vranovská €40/month plus food) is usually in cells with two double rooms and private bathroom facilities. Each student has a furnished bed, a table with a chair and a wardrobe.
This school year, we have representatives from all seven counties outside Bratislava at Gamča. Click on the plus sign to read each of their own cross-country experiences:
Ivana from Visolají (Púchov)

What am I supposed to eat, the dormitories are terrible, there are drugs everywhere and someone will steal from me! 😉 This is how our parents commented on my idea of going to Gamča, in a classic parental way.

I told them that I want a quality and good education, but I can't get it at the school behind the house, where they also take four-year-olds. And that Gamča is not only a high-quality school, but also has its own story (I showed them videos from the OH Gamča), and not every school has that.

Now (2016/17) I am a first-year student in the nematics class living in a dormitory and we work perfectly well with my parents – the school is great and the dormitory without problems – we call each other every day and I am home every weekend (by train for free).

The key is to believe in yourself, and if they believe in you, they have no reason not to let you go. Gamča is worth it! 😉
Transportation to school
Gamča is located in the very center of the city at Grösslingová street number 18 (811 09 Bratislava). GPS coordinates are 48°14 latitude and 17°12′ longitude.
Vrámci centra mesta, resp. historického centra, je k nám odvšadiaľ blízko. Zároveň zo skúsenosti vieme, že niekedy pre nových študentov a študentky, ktorí doteraz chodili na základnú školu "v papučiach" hneď vedľa domu, je to zrazu dlhšia cesta do školy a späť. Podobný stres to môže byť aj pre nových rodičov, hlavne z prímy. Našťastie, ako uvádzame na riadkoch nižšie, škola je z celého mesta či širokého okolia dostupná bezpečne aj za použitia mestskej hromadnej dopravy (MHD).
We are accessible by public transport by bus, tram and trolleybus from various stops, the largest ones being Šafárikovo námestie, Kamenné námestie and Rajská ulica. From all nearby stops, students can get to school safely when they don't have to cross any major road, only a few, in most cases one-way roads within the 30 km/h zone.
The school is also easily accessible by car directly via Grösslingová street or from the back via Bezručova or Gaja Street. However, since the school is located in the center, the surrounding service roads are often clogged. The school does not provide parents or students with parking in its school yard, and parking around the school depends on the availability of public parking spaces. If you need parking, we recommend the Eurovea shopping center with three hours of free parking, or paid parking at the Tesco department store or in the Opera parking garage (formerly Alexia) on the neighboring street.
The school supports the bicycle as a means of transport for its students and staff. There is a rack for bicycles in the school yard for all-day parking. There is no bike rack for short visits in front of the school building, but we would like to set it up in the near future (in envy of the obtained sponsorship funds). In recent years, cycling paths have been built around the school, which the school acknowledges.
The bus station (intercity or interstate lines) on Mlynské nivá is in the immediate vicinity of Grösslingová street and is accessible on foot or by one or two public transport stops.
Although the main station (train) is on the opposite side of the city center, tram number 1 provides a direct connection in a few minutes.
Catering
There is a dining room right in the school building, which also has its own kitchen. There is a choice of 2-3 meals per day (mostly meat, vegetarian, salad/baguette). Currently, most students and professors eat here. Lunch is subsidized by the state. Students buy "tickets" in advance.
Snacks can also be purchased at the "buffet" throughout the day.
In the immediate vicinity of the school, there are countless places where you can have a snack or a meal. 3rd grade students are allowed to leave the school premises during the lunch break, if they are not using the services of the school canteen.
Health care
The school has employees who can provide medical assistance in case of emergency. There is no dentist or doctor directly in the school building, thanks to the central location there are several hospitals and medical facilities in the immediate vicinity.
After arriving at Gamča, male and female students tend to leave their pediatrician at their place of residence or their preference.
Playing sports
The school has a large gym, a small gym, a gym and two playgrounds in the school yard. At the same time, the school uses (mainly during the Olympic Games) external sports grounds such as an athletics stadium, swimming pool or beach volleyball and tennis courts.
Sports fields are mainly used during classes. In the afternoons, they are fully occupied with Olympic competitions (September-December). There are sports rings for the rest of the year if there is interest in them.
The school has a strong tradition in sports, and its male and female representatives (sports teams or individuals) achieve excellent results, either in school uniforms or in the uniforms of sports clubs (or the Slovak national team) in which they compete.
Artistic enjoyment
Similar to sports, every school year from September to Christmas various artistic disciplines run as part of the school Olympics.
During the Olympics and for the rest of the school year, our students attend various art schools, clubs or ensembles (outside of school), where they also achieve great results. Some of them subsequently study art (in various forms) and now make a living from it.
Currently, the school does not have its own studios or other art spaces, but the creation is being considered. The ambition is to create an exterior classroom.