The
Deutsches Sprachdiplom
is a certification exam in German as a foreign language developed by the German Conference of the Ministry of Education and Culture (KMK). This test is used to assess the language skills of persons for whom German is not their mother tongue. The German language diploma has two levels:
DSD I
and
DSD II
.
A German language diploma is recognized in many countries as proof of knowledge of the German language, especially for study and work purposes. It is often offered by schools and educational institutions that teach German as a foreign language, and the exams are coordinated by the Central Agency for Foreign Schools (ZfA).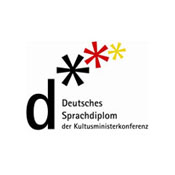 At our school, students are preparing for the DSD I certificate (German Language Diploma Level 1) within the valid curriculum during classes since 2014. This level roughly corresponds to level B1 of the Common European Framework of Reference for Languages (CEFR). It tests basic language skills in listening, reading, writing and oral communication.
The final exams consist of two parts, written and oral. During the written part, students solve specific tasks that test the candidates' language skills in real situations (comprehension of listening texts, reading authentic texts, writing a paper). During the oral part, students present the prepared project and conduct an interview with the examiners.
All students of our school can participate in this exam after the recommendation of the German language teacher. Students of eight-year studies and advanced students of four-year gymnasiums are preferentially preparing for this exam. As a rule, students of the seventh or third grade take the exam. After successful completion, they receive an internationally valid and recognized certificate, which is financed by the German side. The exam is free for our students.
In the 2022/23 school year, 30 students took part in the exam. Of these, 25 reached the B1 level. The remaining 5 students reached the A2 level.