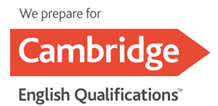 A feature of English that makes it different compared with all other languages is its global spread.
D. Crystal
CAE SEMINAR
As a preparation centre for Cambridge exams, Gamča also offers its students a Cambridge English: Advanced (CAE) seminar. It is a mandatory optional subject for 3rd and 4th-year students, the content of which is preparation for the Cambridge Advanced international exam (CAE, level C1). Through interactive activities, individual or group work and discussions, students become familiar with the format and style of testing, practice reading comprehension and listening skills, revise grammar, improve writing in various genres and prepare for the oral part of the exam. The seminar is designed for 2 years, and after its completion, students are ready for the Cambridge exam at the C1 level.
CAE EXAM
The exam consists of 4 parts:
Reading and Use of English (1 hour 30 min.)
tests work with texts (fiction, newspapers, magazines) and control of English grammar and vocabulary using different types of tasks
consists of 8 parts with 56 questions and the weight in the overall assessment is 40%
Writing (1 hour 30 min.)
it involves the creation of 2 different written works (essays, formal or informal letters, emails, proposals, reports and reviews)
weight in the overall evaluation represents 20%
Listening (approx 40 min.)
in this part it is necessary to watch and understand various recordings (interview, radio broadcast, presentations or everyday communication)
it consists of 4 parts with 30 questions and the weight in the overall assessment is 20%
Speaking (approx 15 min.)
tests the ability to communicate effectively in various situations
the oral part of the exam takes place either in pairs or small groups (max. 3 students)
CAE CERTIFICATE
After successfully passing the exam, students will receive a certificate:
"Grade A" – students demonstrate exceptional skills at a level higher than the required level C1, therefore they will receive a certificate indicating the higher level C2
"Grade B" or "Grade C" – students successfully pass the exam and receive a certificate indicating the achieved C1 level
Students who have not reached level C1, but have demonstrated all skills at level B2, will also receive a certificate (in this case, the certificate will indicate the level achieved at B2!)
Since Gamče students not only excel in mathematics, but also in foreign languages, many choose a more challenging path, i.e. apply for (and obtain) an international certificate of the highest level, i.e. Cambridge Proficiency (CPE, level C2).
Advantages of obtaining a CAE certificate:
effective communication at a professional level
lifetime and international validity
enriching any resume
gateway to higher education institutions and universities abroad
higher self-confidence 😊
More information can be found at C1 Advanced | Cambridge English