Extra-curricular activities in the afternoon, but also during the breaks between lessons and during the weekends, are an important part of life at Gamča, actually it is the base of the Spirit of Gamča.
OH Gamča
OH Gamča (Olympijské hry Gamča, meaning Gamča's Olympic Games) is the legendary flagship extra-curricular activity at our school.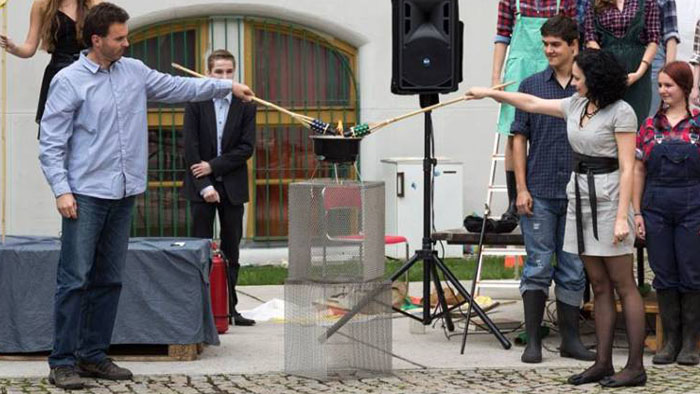 The games are organized by the students from the 7th (Septima) & 3rd (3.B) grade and are held from September to December each year since 1988. During the games, classes are competing against each other in sport, art, academic and "unconventional" disciplines to win the overall title.
Every games have their official name, which traditionally includes letters O and H – last years include: OH Pochybnosť 2016 (~ Doubt), OH Chaos 2015 (~ Chaos), OH OkamiH 2014 (~ Moment), OH Hlavohruď 2013 (~ Baldhead), OH Lamohlav 2012 (~ Lama-brain-teaser) and OH Hrom 2011 (~ Thunder).
As video always illustrate the experience better then words, below you can watch summary videos from previous years. In the respective YouTube channels you can find many more videos if you like.
Deň Európy
Deň Európy (The Day of Europe) is a one day event in May held annually from 1999.
Each class turns its room into a different country (something like EXPO meeting Eurovision Song Contest) and then students are visiting and tasting each other rooms. Although a ranking of classes is usually made at the end to honor the best, this activity is not as competitive as OH Gamča, but is more about enjoying the day together within the Gamča family and having fun.
Deň Európy 2016
Photo gallery
Article (incl. photo and video) in national daily
Video on national TV (from 24m33s)
GrössLink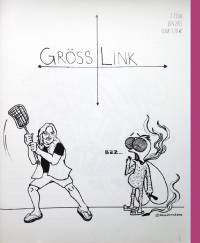 GrössLink is our student newspaper.
Student council
Our Student council (Študentská rada) is an important part of student democracy and life at Gamča. It consists of one delegate per class (i.e. round 20 students) and its president is also a full member of the School Board.
And a mosaic of pictures for the rest …